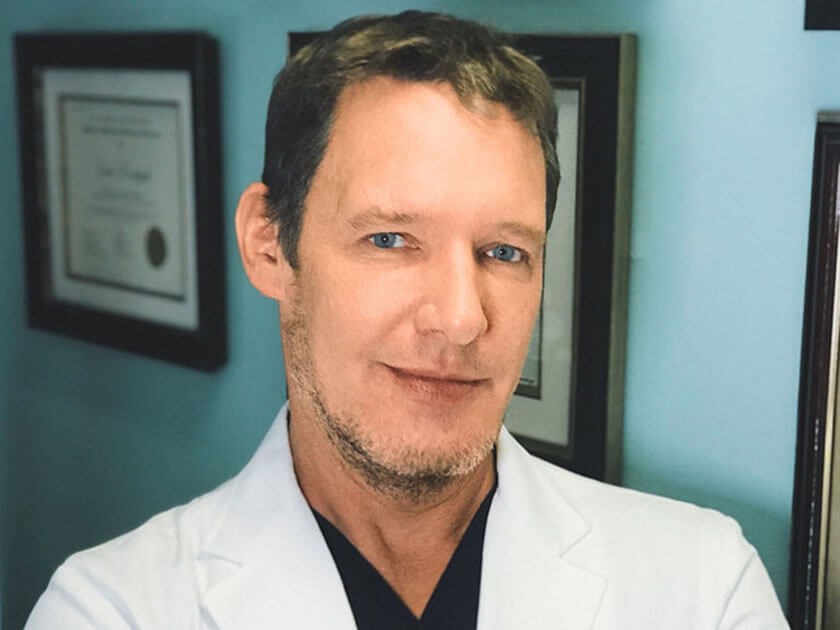 Beverly Hills, CA board-certified internist Dr. Dale Prokupek is a top-rated aesthetic professional. He is the owner of Aesthetic Body Solutions where he is highly experienced in making his patients look and feel their best. Dr. Prokupek is a staff physician at Cedars-Sinai Medical Center and an associate clinical professor of medicine at UCLA as well. Dr. Prokupek is a diplomat of the American Board of Internal Medicine. He is also a member of the American Association of Aesthetic Medicine and Surgery, the American Academy of Aesthetic Medicine, and the American Society for Laser Medicine and Surgery.
At Aesthetic Body Solutions, Dr. Prokupek offers his years of experience specializing in aesthetic procedures, including CoolSculpting®, BOTOX®, dermal fillers, Evolve, Morpheus8 for the face and body, diagnostic testing for hormonal imbalances, and wellness services. He also has medical privileges at the Soma Surgery Center in Beverly Hills, CA for the placement and removal of the Orbera gastric balloon for medically supervised weight loss.
With more than 25 years of experience treating the most complex cases, he understands the need for a thorough medical evaluation, aggressive treatment when necessary, and follow-up care for his patients. His state-of-the-art facility has the latest technologies for treating patients for services, like reducing unwanted fat, resurfacing skin damages, rejuvenating wrinkles, and repairing aging skin. As a CoolSculpting certified practitioner, Dr. Prokupek is also a graduate of CoolSculpting University.
Dr. Prokupek earned his undergraduate degree with a Bachelor of Science in zoology from the University of Wisconsin – Madison and completed his medical education at the Medical College of Wisconsin. His internal medicine residency was completed at Cedars-Sinai Medical Center in Los Angeles, CA. He finished his training with a gastroenterology fellowship at the University of California, Los Angeles (UCLA), Geffen School of Medicine.
Reviews
"A friend referred me to ABS and I'm always skeptical with new aesthetic offices but this place is great. They don't offer a ton of services, but they are top notch and great with what they do offer (I can only speak for the IPL, which is what I got) They also offer Cool Sculpting (coolsculpting ?) and other facial procedures, which I heard people in the waiting room talking about.  Parking is tough on wilshire if you go between 3-5pm, but otherwise I'm very happy with my experience. The staff is great too. Chelsie is a doll and answered all my annoying questions, and Dr. Prokupek seems very smart and passionate. I might try Botox next time here because it's closer to my house. I'll update my review when I do."
R.H.
Yelp
"I consider myself to be a relatively in-shape, health conscious person but it's been harder and harder to maintain my figure as I get closer to 30. A friend of mine who had amazing coolsculpting results referred me to ABS.  I ended up getting my abdomen and love handles done about a month ago and I've already seen results! Chelsie was incredibly professional, not at all pushy and really put me at ease with the entire process. The offices are beautiful, conveniently located, and you can even watch Netflix during the treatment. It was quick and easy and I can't believe I didn't do it sooner.  Debating going in to get IPL done. Highly recommend! :)"
S.C.
Yelp
"Dr P, Chelsie and the staff at ABS are great.  They're extremely accommodating, professional, and above all, personable.  I get Botox every 12 weeks for my migraines and it's helped me beyond anything else I've done over the years.  The IPL I did at the office gave me great results as well.  And, I decided to get Coolsculpting around my love handles after an abdominal surgery made it difficult for me to get rid of subcutaneous fat in those areas....and I'm very pleased with the results.  Parking in the area can be tough during rush hours, but it's worth it!"
S.K.
Yelp
"A hidden gem in Beverly Hills! This place is SO amazing. I used to spend so much money on facials before I came here for an IPL lazer treatment. When I walked in every staff member made me feel extremely comfortable and were very attentive. I had a consultation with Chelsie first which was great because she addressed the problems I had with my skin prior to my lazer appointment. Her knowledge was extremely helpful and informative. I got the the treatment last year and my skin has never looked better. Would recommend this for anyone who spends too much time in the sun and wants their youth back!!"
L.M.
Google
"One cannot simply be the best until he has had the best! My Cousin Taught Mr Prokupek about certain things in seminars."
G.D.
Google
Check Out Our Blog