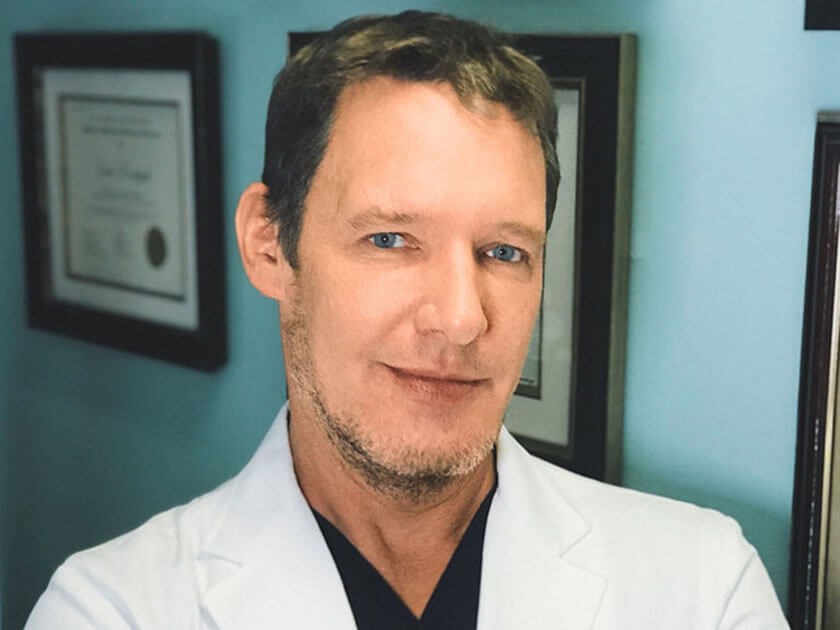 Beverly Hills, CA board-certified internist Dr. Dale Prokupek is a top-rated aesthetic professional. He is the owner of Aesthetic Body Solutions where he is highly experienced in making his patients look and feel their best. Dr. Prokupek is a staff physician at Cedars-Sinai Medical Center and an associate clinical professor of medicine at UCLA as well. Dr. Prokupek is a diplomat of the American Board of Internal Medicine. He is also a member of the American Association of Aesthetic Medicine and Surgery, the American Academy of Aesthetic Medicine, and the American Society for Laser Medicine and Surgery.
At Aesthetic Body Solutions, Dr. Prokupek offers his years of experience specializing in aesthetic procedures, including CoolSculpting®, BOTOX®, dermal fillers, Evolve, Morpheus8™ for the face and body, diagnostic testing for hormonal imbalances, and wellness services. He also has medical privileges at the Soma Surgery Center in Beverly Hills, CA for the placement and removal of the Orbera gastric balloon for medically supervised weight loss.
With more than 25 years of experience treating the most complex cases, he understands the need for a thorough medical evaluation, aggressive treatment when necessary, and follow-up care for his patients. His state-of-the-art facility has the latest technologies for treating patients for services, like reducing unwanted fat, resurfacing skin damages, rejuvenating wrinkles, and repairing aging skin. As a CoolSculpting certified practitioner, Dr. Prokupek is also a graduate of CoolSculpting University.
Dr. Prokupek earned his undergraduate degree with a Bachelor of Science in zoology from the University of Wisconsin – Madison and completed his medical education at the Medical College of Wisconsin. His internal medicine residency was completed at Cedars-Sinai Medical Center in Los Angeles, CA. He finished his training with a gastroenterology fellowship at the University of California, Los Angeles (UCLA), Geffen School of Medicine.
Reviews
"Thank YOU Violet and Dr Prokupek -great work on my abdomen and love handles. I came in for a complimentary consultation and we discussed my needs - in short- after 40 years and 2 kids my love handles had gotten a bit too big and my 6 pack abs were nowhere in sight ! We discussed all of my options - essentially Coolsculpting or a new procedure their Beverly Hills office provides called BODYTITE - They gave me the pros and cons of each choice and what I could realistically expect. I ended up choosing BODYTITE for my abdomen and love handles because it is minimally invasive, and it is performed in one setting. Also- it not only removes the fat but also tightens the skin ( I don't want a flat abdomen with saggy skin on the top) I am extremely happy with my results. I recommended BodyTite by Inmode at Dr Prokupek's office for amazing results and exceptional care."
S.C.
Google
"I wanted to tighten my jaw line and get rid of my jowls. I had a virtual consultation with Genesis , Violet, and Dr Prokupek. It was very comprehensive, first thing we did is identify the issues I was having and they gave me 3 possible treatments to correct my issues . They gave me their opinion as to what procedure would best meet my needs . I appreciated the fact that they didn't try to sell me on anything but recommended what would best resolve my issues. Dr. Prokupek recommended Facetite and Mopheus 8 by Inmode for a scarless facelift and to contour my jawline. My results were so amazing. I was shocked at how young and sculpted my jawline and face looked. I am extremely happy with my results and it was worth every penny. I know get hit on by younger men and my husband hates it but I love it !! Thank you Dr Prokupek for giving me a new lease on life !"
N.R.
Google
"I'm back on the market after 25 years and after 2 kids my skin laxity and glow was gone. I'm so blessed to have met Dr. Prokupek and Violet at ABS who introduced me to my new savior....... The Morpheus8!! Previous reviews said the Morpheus was painful but Dr Prokupek administers topical anesthetic and nerve blocks so I felt no pain at all. The downtime was minimal, only two days. My skin looks amazing, smoother, tighter, brighter and my friends say I look 10 years younger. Kudos Dr. P and Violet for giving me the confidence to get back out there."
S.S.
Google
"I went in because I was born with a double chin and I'm about to get married and it just won't GO AWAY! I came in for an evaluation, they took some photos and together we discussed an appropriate treatment. I wanted the treatment to be non invasive with minimal down time and I wanted proof that it would actually work. We discussed several options and we finally decided on the use of Facetite and Morpheus by a company named Inmode. The procedure took about 2 hours with little discomfort because of the topical numbing medicine. The down time was less than a day and there was NO residual pain. Finally, 6 weeks later, I had a new jawline. I HIGHLY RECOMMEND. It is physician run which gives you an extra sense of confidence. They provided a good objective and evaluation."
V.G.
Google
"Really wonderful experience here and my non-surgical results are mind boggling!! The procedure I had was called Morpheus and BodyTite by a company called InMode. LOVE technology! I feel and look 10-15 years younger and LOVE the staff! Beverly Hills ABS is my new go to from here on out. 5 stars ⭐️ ⭐️⭐️⭐️⭐️"
B.H.
Google
Check Out Our Blog